Our Team
Jan M. Kelly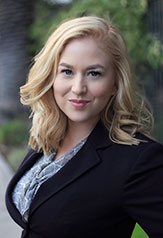 U.S.C., 2010 BA Fine Arts
Experience
Appraiser
Norris Realty Advisors – Pasadena, California
January 2016 – Present
Appraiser
Lea Associates, Inc. – Westwood, California
February 2014‑ January 2016
Associate
Mason & Mason Real Estate Appraisers and Consultants – Montrose, California
November 2012 – November 2013
Professional Aide, Corporate Communications
Southern California Edison – Rosemead, California
Summer 2007
Summer 2006
View More
Education
Bachelor of Arts, Fine Arts from University of Southern California, 2010
View More
Assignments
Extensive market study on the effects of copper pipe pitting issues throughout Orange County, including cities of Fullerton, Aliso Viejo, San Clemente, Mission Viejo, and Newport Coast [Newport Beach].
Valuation for a public works yard involving a partial building, for possible acquisition by retail developer.
Valuation of an industrial building and warehouse in Westwood for trust/tax purposes.
Valuation of a partial acquisition of public utility building for city street widening and bus turnout lane creation in Lancaster.
Development of a value opinion for partial acquisition of a vehicle storage and bus maintenance lot for railroad development, including encroachment area(s).
Valuation of agricultural/equine land in Temecula and raw desert land in California City for trust purposes.
Valuation of 75,000± sf school in Los Angeles for possible sale.
Appraisal of a single family home in Pacific Palisades with both current and 6 retroactive dates of value, for litigation purposes.
Appraisal of a demolished single family home in the Beverly Grove area of Los Angeles, for litigation purposes.
Valuation for infill affordable/veterans housing site in the City of El Monte.
Valuation of low-speed wind tunnel facility in Hawthorne.
View More